Happy Tuesday!

Yep, I'm still tired, in case you were wondering.
LOL
You probably were not...but oh well.

I'm going to join in my friend Dazee's linky thingy :) the same one I did the last few weeks, the Dear... one, that can be for good or bad, I like that it swings both ways. Play along if you'd like, here in the comments, or on your own blog, and link up to Dazee's...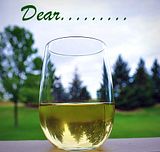 Dear Mother Nature...I'm STILL waiting for now. Come on, its almost Thanksgiving, we need a little snow coverage to get more into the holiday spirit.
Dear Mom...Thanks for the surprises.
Dear Butch...Thanks for catching me up on whats been happening in your life the last 30 yrs or so, I've missed ya friend.
Dear old faucet...You've been very very naughty. Its not nice to leak like that.
Dear new faucet 1...you looked nice...but you had to go and mess up...not good. Thanks for making me go longer with no way to do dishes...not cool.
Dear bathtub...you are very uncomfortable to lean over to wash dishes in a bucket in there..a ton of dishes.
Dear new faucet 2...So far so good, you look nice, now please play nice and stay working without leaking. Thanks.
Dear sales lady at Zales...Next time you have customers waiting for services, don't ignore them and gossip with someone else.
Dear sleep...please come to me easy tonight, and last all night long.
Dear Bree...please be kind to mommy and sleep all night.
Dear Z...no, I will not wax anything on your body, gross.
Ok, I could go on, but I'll stop for now...
QOTD: Have you met any celebrities?
Toodles!