Good morning friends! I'm linking up with my Dear Dazee with her Dear John type letters. I love these because they can be a nice letter, or a ticked off one :) Play along if you'd like...either here in my comments, or on your own blog. If you do your own blog, maybe you could link up to my friend Dazee! :) That would be nice.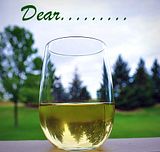 Dear self... The secret must be kept from friend for a few more weeks, stop getting excited and wanting to spill the beans early! You can do it! (NO, I am NOT pregnant.)
.
.
.
Dear Dazee...Thanks for talking to me daily. Its nice to have grown ups to talk to in my child filled world.
.
.
.
Dear DWTS, ABC, and America...Thank you for not letting Bristol Palin win DWTS last night! Yes, I know she improved some, and tried hard...but she is not the best, and she isn't a star, she shouldn't have been on there anyways. Thanks.
.
.
.
Dear DWTS...I'm so glad this season is OVER. You made my blood boil each week!
.
.
.
Dear Bree... You are nearly 3, its time you start sleeping through the night... Mommy is tired.
.
.
.
Dear Mother Nature...Take back your stupid tornado warnings, severe thunderstorms and all that junk, and bring me some freakin SNOW.
.
.
.
Dear Zach...Do not tell your baby sister a donkey will come kill her in her sleep if she doesn't eat dinner...she has enough sleep issues and this does not help. Butthead.
.
.
.
Dear Butt & Bladder...night time is not the time for business...I want to sleep, not visit the john. Especially at 6 a.m. on a morning I don't really need to be up.
.
.
.
Dear Thanksgiving meal... please cook up nicely so the family is able to enjoy you tomorrow.
.
.
.
Dear housework fairy...have I got a job for you... :)
.
.
.
On that note, Dear Money Fairy..can you please drop me a load? I want to shop on Black Friday!
.
.
.
Dear headache...LEAVE.
.
.
.
Whelp...as usual, I could go on and on...but I'll stop for now before I bore you to tears. :) You are welcome. LOL.
.
.
In case I don't get on here tomorrow... Please everyone have a safe, fun, happy, healthy, enjoyable holiday. Don't eat to much turkey! Hugs!
.
.
Toodles!
.
.
2nd QOTD: I heard on the news that pumpkin pie has some arousal factors for men...anyone have any experience to share about this topic? :)
.
.WTH is bloggers problem today? I try spacing between paragraphs and it shows it as I'm composing my post, but when I publish all spacing is gone...hence the dots between...didn't know what else to do to make it less jumbled. Behave blogger!