It's Tuesday.
Guess what that means?
It's time for me to join in with my buddy ole pal Dazee and do Dear... letters! Letters to whomever I want, for good or bad...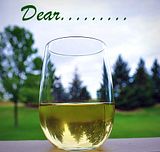 Dear Sickies...So long! Don't let the door hit you on the way out! We are all finally feeling better, and on the road to wellness. Bree still coughs a tad, but is doing a ton better.
Dear mind...when I go to bed to sleep, PLEASE turn off so I can sleep. I don't want to think about bake sales, and other fund raising ideas, nor about anything else... I. JUST. WANT. SLEEP.
Dear hot cop neighbor...Your dogs are totally getting on my nerves lately. Every evening for the last several days they are barking up a storm. You are so lucky they aren't doing this at night, or I'd have to call the cops...which would be umm YOU. LOL. Good thing you're hot, and you look extra hot in your cop get up.
Dear
Train
...Man, when you derail you sure make a mess! Several coal cars on a train over turned here in town Friday.
Dear self...You weigh 11 lbs less today then you did Jan. 1. Good job.
Dear tax refund....you could hurry up a bit couldn't ya? We've got things to pay...and we wanna take a weekend vacation to an indoor water park.
Speaking of the water park...Dear waterpark...I hope when we finally do come for a weekend you are filled with a blind people convention, so no one can see my fatass in a swimsuit.
Dear fundraising idea...I thought of you, and I really hope you can come together and work. I hope it is easy to do and it makes us a ton of money for the Relay for Life. I'm not used to planning stuff like this, not sure what to do so I hope it all works out...if people pay money to come and see something and it fails I'm going to feel horrible.
Dear Sissy (our cat)...While I'm laying in bed around 5:20 a.m. trying to return to sleep, the last thing I want to hear is you sharting in the bathroom..and the last thing I want to see when I go to investigate is your spray paint crap all over the side of the bathtub and on the carpet.
Dear snow... It is so sad to see you departing :( I love you snow...I just wish it didn't have to be cold to have you.
Dear spring...I'll miss the snow, but I'll welcome you, so hurry and get here so the snow haters can stop whining :) LOL
I guess thats all for now...
Toodles!