Hey Peeps!
How was your day?
Mine hasn't been spectacular.
Its time for my weekly Dear... letters to link up with my dear friend Dazee.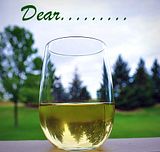 Dear Body...My idea of 'sit & take a load off ' apparently isn't the same as yours. Sitting on the toilet, with major cramps, crapping my guts out is NOT WHAT I MEANT! That was pure evilness.
Dear TP companies...You. Are. Welcome. I keep you in business.
Dear Imodium AD...I love you, and so does my sore anus. LOL sorry, TMI. :)
Dear SKYPE...You SUCK today. Shame on you for being down ALL DAY! Don't you know I have friends that I like to talk to?? Meanie.
Dear Christmas...Can ya get here already?!
Dear January...see above...can YOU get here already too?
Dear McD's...I'm still begging you, don't get rid of your $1 large cokes!
Dear family...if you don't start hanging up your coats instead of tossing them on the floor in front of the closet, I am totally going to sick a hanger someplace you'll not enjoy it.
Dear movie...thanks for the laugh tonight! I needed it. (She's Out of my League)
That's all for this week. :) I'll probably post before Christmas again, but in case you are traveling and won't be around reading blogs...Have a Happy Healthy, SAFE, Fun, Fantastic Holiday!
Toodles!
QOTD: Watch any good movies lately?