Peek a boo, I see you! :) I love that picture of Bree. It was taken yesterday as we played outside enjoying a nice springy day.
Today is FRIDAY! That means, its time for Mama M.'s 5 Question Friday, and I'm going to participate again. I hope you will too, either blog about this, or do it in the comments. I love hearing from the few readers I have.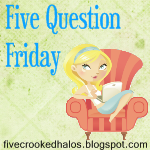 Here we go...you should know the drill by now, Mama M's questions, then below my answers to these questions. You should visit Mama M.'s sometime by the way, to see the rules of this, and how the questions are picked, heck you can even submit YOUR OWN questions, maybe some Friday she'll pick yours...mine have been picked many times now, there is one of mine in today's as a matter of fact, and one last week too, and if I remember right one the week before that as well. Its fun, makes me feel 'special' lol being picked. On with the show...
1. How much time do you spend on the computer a day?
2. Will you pay for your children's college or raise them to pay for their own way?
3. Have you ever been in a car accident?
4. What is your favorite book?
5. Do you make your bed everyday?
~~~~~~~~~~~~~~~~~~~~~~~~~~~~~~~~~~~~~~~~~~~~~~~~~~
1. Way to much. My computer is located in the living room, where we spend 95% of the day. When I'm not playing w/Bree or the other kids, I'm usually at the computer talking to my friends Tammy & Kami, and keeping up on our forum, and also reading blogs to find new crafts, and recipes etc. Oh yeah, and there is this thing called Facebook that sometimes keeps me occupied too... I can't afford to go out and do all kinds of stuff, so my computer is my friend, and my friends are on my computer :) It keeps me sane when the kids and the kids choices of TV shows are driving me crazy.
2. My kids will pay their own...I wish I could afford to pay it for them, but that isn't the case.
3. Back in Jan. (the 18Th to be exact!) I was in one. It was not my fault. This dude just started backing up on the road, without looking to see that hey, someones behind me! That someone was me, with Jilly & Bree. Thankfully none of us were hurt. My van just recently got repaired.
4. I don't have a favorite BOOK...but I have a favorite author, and series of books. Janet Evanovich, her Stephanie Plum series. I have read them all, and anxiously await each new one. The 16Th in the series is due out in June, I can't wait! These books are mysterious, adventurous, romance, and HUMOR (lots of humor) all in one book. I highly recommend them.
5. I'd say about 90% of the time.
There ya have it. I hope you enjoyed this installment of 5QF :) Please, leave a comment, maybe answer these 5 questions too. Thanks for stopping by! Toodles!