It's Friday! Yay!! That means its time for Mama M.'s 5QF! Lets get the show on the road! I'm not going to do it vlog style today because the answer to one of the questions is pretty long, so the video would be long too, so I'll try it another time.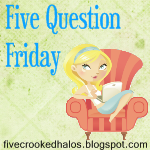 1. Did you pass your driver's test on the first try?
2. What is your most embarrassing moment?
3. What TV show would you like to be on- Oprah, Biggest Loser, or What Not to Wear?
4. Would you ever get plastic surgery and what kind?
5. What are your favorite jeans to wear?
~~~~~~~~~~~~~~~~~~~~~~~~~~~~~~~~~~~~~~~~~~~~~~~~~~~~~~~
1. NO! I didn't even get to drive the first time, I was failed before that. You know how you get in the car, and you have to test all the lights and the horn for the instructor before driving? Well, we had a crappy old car...I was doing this part of the test, the instructor told me to honk the horn, so I did. She then told me that the horn was not LOUD enough! And I couldn't take the rest of the test until I had the horn fixed or a different car. What a bitch! Next time I went, was when we had a rental car that we used for a trip to visit family in MI, so when we got home, we quick went to the DMV and tried again, and I passed.
2. Ok, this is the question with the LONG answer...I'm going to copy and paste it from another place (my mommy forum) to save me some time :) Here it goes:
My mom has donated blood for many years and she had been trying to get me to do it. I was afraid of needles and couldn't understand why anyone would choose to go get stuck by one when they didn't really need to...until I read about baby
Allie
and how much she went through, and how many transfusions she needed etc.. So, I figured I'd finally attempt it. So, mom had an appt. to donate and I thought I'd go along with her and see if they could squeeze me in too, if they couldn't so be it it wasn't meant to be...I had worked all night with my dad to help him out so I was exhausted and I hadn't eaten before I went (big mistake). I met mom there and to my horror they could squeeze me in. I passed the screening thing and was taken back to the room where they take the blood. It was packed because they had a special promotion thing going on. SO, they stuck me and things were going well. My bag was filled and I thought whew that wasn't so bad...Then they took the needle out and told me to hold my arm up for a few minutes. While I was doing that I got really icky feeling, dizzy, clammy, the room was spinning...I asked my mom if that was normal and she said no, and she told the nurse. They quickly aimmed a fan at me, covered my forehead with a wet rag to help...it didn't. I fainted. Do you know that when you faint you have no control over your bodily functions? While I was passed out I barfed all over myself AND pissed my pants!!! OMFG. I came to and they were cleaning barf off me. I remember before donating I had to pee but didn't have time before they called me back, and suddenly I didn't need to pee any more lol. I asked the nurse if I had wet myself and she said she thought I was just wet from puking...but I knew better lol. Once I got to where I could stand up, I went to the rest room to wash up more. I had puke all over my clothes. The nurse (Bethany) brought me a t-shirt to wear, ones they had previosly given away for promotions at a blood drive. It was teal and purple tye dye. I thanked her and then I wondered what to do regarding my wet pants..She brought me another promotional item, pj pants...they were green and red plaid. I looked like a bad tourist Of course it was that time of the month for me so I had to wear my wet panties still because they didn't have any promotional panties haha. I wrapped my sweatshirt around my waist and tied it to hide if any wetness came through. They wouldn't let me leave for a long time because my pulse and blood pressure was all messed up and I was so pale. Finally they gave me the ok to leave. I was so happy to get out of there! I had to drive 45 min. to get home. Stupid me didn't think to put the bag of pukey clothing in the trunk, instead I had it in the car and the smell was awful!! I couldn't wait to get home and shower! I showered as soon as I got in the door...then I started getting the chills, took a 3 hr nap, thought I felt better....got up and mom made me soup (I was living with her at the time), and while she was cooking I almost fainted in the kitchen again. I guess I was catching something and when they drained me of blood the symptoms got worse because I was feeling really sick the rest of that night. Bethany the nurse called to check on me later that evening. WHen I told her I was still feeling sick, she told me that they would have to throw out my blood. So I went through all of that and my blood couldn't even be used. (they don't want any recipient getting sick).
Now I know to always get plenty of sleep and eat something before donating and usually things go fine (Yes, I STILL donate). I did pass out and barf one other time lol, but most of the time it goes ok. And suprisingly they still ask me to come back to donate LOL.
3. Given my weight, I should be on the Biggest Loser...but thats to hard. So, I'd like to be on What Not To Wear instead, maybe they could teach me to dress better for my fatass body. But, seriously, could I spend that money at places like Target, Walmart, or Fashion Bug? The stores they have in NY are way to expensive, and I could stretch that money out so much better at my stores and get lots and lots more things. :)
4. Never had any plastic surgery. To expensive for this poor woman. Maybe if I ever got to my desired weight I'd somehow figure out a way to get all the excess skin and crap removed...but ummm like thats gonna happen...
5. I don't have any jeans right now. I can't find any good comfy fat lady ones.
There ya have it people! My answers to 5QF. I hope you enjoyed them. Please, by all means jump in. Either visit Mama M.'s blog and join that way, or just comment here with your answers if that is easier :)
OH, one more thing. I'm going to start a Question of the Day on my posts. I'll post it at the end of each post (hopefully I'll remember) and I look forward to my readers taking a minute to comment and answer the QOTD. It would totally make me happy...so please do! Here we go:
*QOTD: If you were stranded on an island for the rest of your life, who is the one person in your circle of family or friends that you would most want to be stranded with? Who would you least want to be stranded with?
Toodles!