Wow, Friday is almost over, and I'm just now getting around to posting!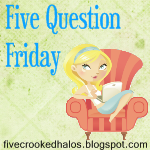 Yep, its 5 Question Friday time. If you don't know what that is, please visit Mama M.'s site, it explains it all. Once again, one of my questions has been picked :) So please, take a minute to view the questions, read my answers, then tell me your own answers! You can do it in a comment here on my blog, or even blog your own 5 Question Friday...if you do that, be sure to link up over at Mama M's.
Questions:
1. Do you sing out loud in the car when you're driving?
2. What would you never be caught doing?
3. Will you go #2 in a public restroom?
4. Have you ever broken a bone?
5. Do you prefer cooking or baking?
~~~~~~~~~~~~~~~~~~~~~~~~~~~~~~~~~~~~~~~~~~~~~~~~~~~
My answers:1. I rarely get to listen to music in the car. Usually Bree is watching her dvd player, its almost always showing Little Bear at the moment. BUT, if I do get a chance to listen to the radio, and recognize the songs being played, yes I do sing. Why not? :) 2. Ummm only gross things come to mind, like picking a wedgie, scratching my pooter or cooter, picking my nose...any of those sort of things...eww.3. If I gotta poo I gotta poo! I don't care if its in a public john or not...they do have doors that close so its not like people are watching me...IF I know its going to be a noisy or nasty one, I tend to wait until there are as few people in the bathroom as possible, and I make all kinds of noise with the TP holder or the flusher to try to mask the sound...not much I can do for the stink part though...although my crap smells like roses, I'm sure of it. ;) Sometimes, if its really gross, I try to wait until everyone clears the john before I exit my stall, to avoid some embarrassment.4. I've only broken fingers & toes. Lots of toe breakage, damn things keep getting in my way, I'm forever stubbing them.5. Baking! I hate cooking. Maybe because its like mandatory, I HAVE to cook dinner daily etc. I don't HAVE to bake all the time...but I like to when I do. I can be more creative when baking, and stuff just tastes more yummier :) If only I could bake without eating to much...and without all the darn mess.There ya have it! My installation of 5 Question Friday. I hope you enjoyed it. Thanks for stopping by! I'm going to post a few pics real quick, because I can :) Then will come todays QOTD (question of the day). Please let me know what your answer would be in the comment area! Thanks.It was a super windy day today! Here are a few pics of Jilly & Bree. Oh yeah, and one of our Easter eggs, some of them anyways...
Toodles!

QOTD: What is your earliest memory?