Its Friday! That means I'm in for a somewhat quiet weekend...well as quiet as it can be with Bree around. Kels & Jilly will be gone this weekend so I won't have fighting between them to deal with, which makes things a lot quieter. Kels will spend most of her weekend babysitting, which she is excited about because she wants to buy herself a new purse from my friend Kami, who has this Etsy shop. Jilly will be at Bria's, her step mom's. Not much more time for visits there since Bria will be joining Jilly's dad in Norway in June.Are you ready for 5 Question Friday? I hope so! You should know the drill by now. I do Mama M.'s 5QF, I put the questions, then below my answers. Please feel free to answer them as well over in the comments area, or even blog about them on YOUR blog. If you do, please link up to Mama M.'s. She has the official rules over at her site. Ok, here we go!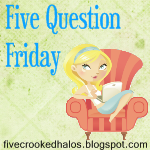 1. What was the first car you owned?
2. What song are you embarrassed to know the lyrics to?
3. Have you ever had stitches?
4. What was your first job?
5. Who is your favorite Sesame Street character?
~~~~~~~~~~~~~~~~~~~~~~~~~~~~~~~~~~~~~~~~~~~~~~~~~~~~~~~
1. Holy crap, I have to remember that far back? I think it was a 1972 Gran Tornino, a big old car, it was brown, white top, and had a stripe on the side that was yellowish...My 1st hubby found it for me, he was a old car freak...2. Hmm a lot of Yo Gabba Gabba songs! I don't get to listen to real music anymore thanks to Bree :P3. Yes I have. When I was little I was playing tag with my brothers. They ran out the door, I went to push it open and my hand went through it. I got 2 rows of stitches on my wrist. Not sure how many exactly, the scar is kinda faded so I can't count it well. The one good thing about having that scar as a child was when it came time to learn my right & left hand I could always remember my left by looking at my scar :) I've also had stitches for c-sections, and for a cyst I had removed next to my eye.4. My first job was at Burger King. I worked there for quite a while actually.5. When I was little my favorite charactor was Cookie Monster & Snuffleupagus (sp). I guess I liked cookie monster so much my dad started calling me Cookie...and that stuck for years. I think now, I like Elmo best, and maybe Abby Cadaby, she is cute.There ya have it! Now you know a little more about me by my answers to the questions. I hope you enjoyed todays 5QF.Now for a little question of my own for you to answer, todays QOTD will be posted below. Thanks for stopping by! Toodles!

QOTD: Do you garden? If yes, what do you plant?