Whew! I survived another week! Some days I was wondering if I really would lol. I would have been on here earlier to post, but ummm my darling little Miss Bree decided to spill her chocolate milk all over the living room carpet (accidentally of course). I had been thinking about cleaning the carpet, it was in definite need, but I didn't expect to have to do it TODAY! Oh well, at least one room got done. So its Friday...you know what that means right? Mama M.'s 5 Question Friday! As most weeks, I'm going to participate. I was hoping to Vlog it, but didn't get time so I'm typing it. For all the rules, please visit, Mama M.'s. Join along if you can! Here we go!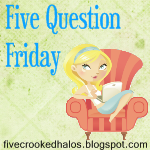 1. Take your pick...date night, girls night out, or night out alone?
2. Can you touch your nose with your tongue?
3. What is your favorite flower and why?
4. If you could go back in time, what advice would you give yourself?
5. If you won the lottery, what is the very first thing you would do?
~~~~~~~~~~~~~~~~~~~~~~~~~~~~~~~~~~~~~~~~~~~~~~~~~~~~~~
1.
Hmmm, they ALL sound good! I can't decide. Probably either date night, or GNO. Hubby & I never get to have date night anymore with him working 2 jobs and us being broke. It would be nice to have time alone with him out of the house, like us at dinner & a movie. GNO also sounds spectacular...I can't remember the last time I had a GNO, probably before Jillian was born. I think I'm long over due. Time alone wouldn't be so bad either, I could go see a chick flick, chomp on a candy bar and slurp up a coke while doing so, doesn't sound so bad to me :)2. I can, if I try really really hard! Not worth the effort :)3. Gosh, I have a few...lilacs, they smell so good! pink roses, yellow roses with pink tips, lavender roses, and I just saw there is a rainbow rose that looks super cool! The lavender colored roses bring back a great memory, my dad got me 16 of them for my 16th birthday, I will never forget it, it was my first time getting flowers, and they were so pretty. 4. Stay away from junk/fast food! And to see a dentist regularly. If I did that, I'd not be addicted to fast food, nor would I be a fat cow, and my teeth would be pretty not ugly and hurting all the time.5. Get out of all debt. Buy a bigger house!That's all folks :) Feel free to participate too, either by blogging on your own and linking up or by answering these questions in the comments. Have a great Friday! Toodles!QOTD: Do you like to watch sports?Oh! P.S. Don't forget to link up to Renee's Recipe Round-Up! And providing I remember, tomorrow will be Show Me Saturday! Topic for that is going to be "guilty pleasure" blog about what yours is, or show a picture of yours and link up. So you have a heads up now and can prepare ;)LOL My daughter took off all her clothing and is on her bouncy horse naked...nothing like bare back riding lol....what a nut.