I was busy yesterday and didn't get around to posting 5 Question Friday, so I'm going to do it quickly now, before I head out to run a few errands (aka McD's coke run!).For all the official rules for 5QF check out Mama M's blog. If you'd like to join in please do so, either by blogging it on your own blog and properly linking up or by just quickly answering the questions in my comments area.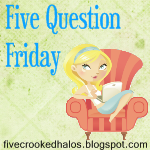 1. What is one thing you miss the most about childhood?
2. Are you still friends with your friends from high school?
3. Is there a catch phrase, cliche, or word that just drives you bonkers every time you hear it?
4. What is one thing that you think symbolizes America...besides "Old Glory"?
5. What are your 4th of July weekend plans?
~~~~~~~~~~~~~~~~~~~~~~~~~~~~~~~~~~~~~
1. Lack of every day worries. Freedom to play with friends, not have to worry about taking care of kids, doing laundry, cooking dinner etc....in other words, I miss having fun.2. I have one close friend, although we haven't talked much in the last year, she got busy with life. I have a few other friends on FB, I keep up with their lives there, but other than FB we don't really talk.3. I have a few...online ones: *Le Sigh* DUMB! drives me nuts, and meme...what kind of word is that? I think a better word should be made for that stuff. The word panties bugs me too, not sure why...I would rather use underwear, or undies.4. Freedom5. We have a party to go to on the 4th at our good friends Dan & Cindy's house. Hopefully the weather will cooperate and the kids can swim and we can stay and watch fireworks from their yard.Ok, there is the 5QF, on a Saturday...I hope you enjoyed it. Now I need to post a Show Me Saturday post and go run my errands.

QOTD

: Will you be wearing

Red

, White, and

Blue

for the 4th of July? (sorry, couldn't make the word white in white font, you'd not be able to see it! lol)Toodles!