Ack! I got behind, so I'll post both day 3 & 4 today. I got busy doing cookies yesterday and was to tired to blog when I was done. Sorry.
So, continuing with Mama M.'s Valentines Extravaganza...Day 3 is "Engagement Story"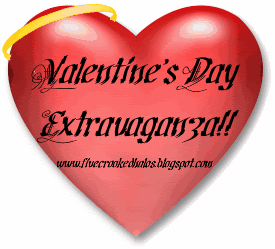 I knew Bill was going to propose to me, because in Nov. of 2006, he took me to the jewelry store to look at rings...and ended up purchasing one :) It of course had to get resized because I have small fingers (only small thing on my body now a days), so I wouldn't get it for a while. It was due to come back around my birthday. So as my birthday got close, we figured we'd go out there and pick up the ring, but he kept delaying it, I got worried. Come to find out, he had already picked it up, and I didn't know. I went to stay at his place, and we went had plans to go to Chicago to see the Christmas lights. This was the day before my birthday. Before we went, Bill got on his knee and asked me to marry him and gave me the ring we picked out. It wasn't all candle light and rose petals or anything, but thats ok by me :) We celebrated by going out to Chicago, and out to dinner and stuff. The next day, I posted on my old blog this:
Guess what I got for my birthday! For starters I got a dozen roses, cake, card, trip to Chicago to see the lights and freeze my ass off lol, and.......drum roll please.....a ring and a marriage proposal! I said YES!
Some of you will think I'm totally off my rocker, since I haven't been with Bill for that long...but I don't give a shit. I love him, he loves me, he treats me and the kids wonderfully, and I just KNOW, without any doubt, that he is the one. So, please, just be happy for us.
Bill made me breakfast this morning, my favorite, french toast and hash browns. I was going to do dishes, but he said I'm not allowed to do them on my birthday, so he is out doing them now. He is so good to me.
So there ya have it, my engagement story :) Tell me about yours!
Toodles!