Yep today is another installment of Mama M.'s Valentines Extravaganza blog hop...5 Question Friday style today!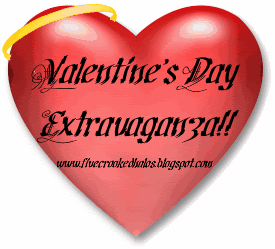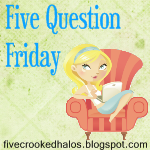 1. What is the one thing your love does for you that you can't live without?
2. When did you know your love was "the one"?
3. Does your love have a special ringtone on your cell?
4. What are you attracted to most in your special someone?
5. Did you know when/where he/she was going to pop the big question?
~~~~~~~~~~~~~~~~~~~~~~~~~~~~~~~~~~~~~~~~~~~~~~~~~~~~~
1. He takes care of me, and the kids. He works super duper hard at 2 jobs, so that I can stay home with the kids and be MOM.
2. I think after our 2nd date, when he met my crazy wild kids and still called me later that night wanting to see me (us) again! :)
3. Nope, I'm not sure how to give special tones to different people, so he gets the same as everyone else. I think on his phone though he has a special one for me, or at least he used to...it was a song by Hinder that we both liked together.
4. His sick sense of humor..something we both have.
5. Kinda, sorta, I knew approximately when he'd do it...he did it a tad earlier though.
Thats all for now...See ya tomorrow! Toodles