Another day in Mama M.'s Valentines Extravaganza blog hop...Day 4 is "Favorite wedding day story"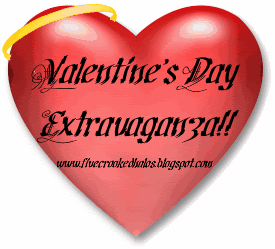 Again, to save time, (and because I'm lazy right now!) I'm going to copy & paste what I put on my old blog...
Feb. 2, 2007, I got married! Yep, you read it right, I got married. I married my prince charming Bill in a small courthouse ceremony with a few family members in attendance. Bill looked VERY handsome in his new suit. I wore a red lacey top and a black skirt. I felt like a moose, but Bill assured me that I looked beautiful and he loves me just the way I am...no wonder I married him! Jilly cried at the wedding. When asked why she said, "because someone always has to cry at weddings!" she is such a nut.
After the ceremony mom took the kids back to her house and then their dads picked them up there for the weekend. Bill & I went out to dinner. We thought about going to someplace high class and expensive. I suggested that we just go to Applebees since we both know we like their food and the price is right. So Applebees it was. We were still dressed up when we went there, and the hostess asked why, we told her we just got married. During our meal several waitresses came by with balloons for us and offered congratulations. Our waitress said they were going to take some $ off of our bill since we were just married...she came back a few minutes later and said it was on the house! We got all of our food free! That was very nice of them.
After our dinner Bill & I came home to our nice quiet home. We just chilled out and watched movies and had popcorn and champange (sp?). Then we did what most newlyweds do lol.
The next day we had a reception here at our house for family and a few close friends. We had about 40 people here in our SMALL home, it was very crowded. Everything went well though. The wedding cake I made looked decent and even tasted good, thats a plus lol.
Sunday was spent cleaning up the mess from the party. The rest of the week there were errands to run, thank yous to write, shopping to do, physical therapy appointments for Bill, and other odds and ends to take care of.
The first week of marriage has been great, except for the fact that Bill & I have been sick! I woke up at 3 a.m. on our wedding day with a sore throat and things went downhill after that. Here it is a week later and I am still feeling crappy. Bill of course kissed his bride and caught what I had...so we've both been coughing a lot and feeling run down. We'll be glad when we finally feel better!
The day we were married we were taking the girls to school (for 1/2 a day, we picked them up later for the wedding) and we saw a rainbow. How often do you see a rainbow on a FREEZING Feb. day? I thought it was pretty cool and kind of a sign that it was a special day.
There ya have it! Here are a few pics from our wedding, and the cake for the party the day after.
It's your turn, tell me about YOUR wedding!
Toodles!