TGIF? Not sure yet...I'll get back to ya on that one. But yes, it is Friday, which means I'll be doing Mama M.'s 5 Question Friday. You know the drill by now I'm sure. I post her list of questions, then I answer them. If you'd like to participate please do! You can either do it the right way by blogging the questions and linking up to Mama M. or do it the quick way here and just answer the questions in the comments area. Ready? Set... GO!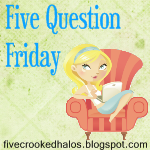 1. If you could go back to college would you change your major? Or, if you were to go to college right now...what major would you choose?
2. What do you love most about your home?
3. What types of books do you like to read (if you like to read at all)?
4. What is the grossest thing you've ever eaten?
5. If you HAD to be a character on a TV show, whom would you be?
~~~~~~~~~~~~~~~~~~~~~~~~~~~~~~~~~~~~~~~~~~~~~~~~~~~
1. I never went to college. If I went now I'm not sure what I'd take up. Not sure it really counts as college, but I've always wanted to be a hair stylist, so I guess I'd go to beauty school. I know, kinda lame right? Its not something that would bring in much money probably, but its something I think I'd enjoy doing.2. Ummm...that its a roof over our heads. Other then that, if I had the money, we'd be out of this tiny box and into a bigger house with more current decor :) No more gold tub & toilet in the bathroom, or fake brick in the kitchen.3. Janet Evanovich! I Love her Stephanie Plum series. They make me laugh out loud. They have a little of everything in them, humor, romance, adventure, mystery. You should totally check them out. A friend turned me on to them, I got the first book, read it, then in the next month I read all that she had written! Now I have to wait and wait for Janet to write new books. The next one, Sizzling Sixteen comes out June 22. Unfortunately I'm on a LONG LONG waiting list at the library :( I hope people read fast!4. The only gross thing that comes to mind is the time I ate oatmeal, by the time I was nearly finished I found food bugs in it...not sure how many I ate...yuck. I'm sure I ate other gross things but I can't remember them at the moment.5. Well, I'd LIKE to be Meredith on Grey's Anatomy...only so I can kiss McDreamy ;) Hmm OR, I'd like to be Addison on Private Practice, so I could kiss Sam, he is mighty fine! (If you don't know who these people are, visit abc.com and check out the photos on the show pages.)Thats a wrap! I hope you enjoyed my answers to the questions. I hope to be able to read yours somewhere (on your blog or here in my comments section). Have a GREAT weekend!Toodles!